Which is the right platform ?
In earlier most of the sites were built using coding like  HTML , JAVA,CSS. However this took lot of time to create a website and it was little tricky, as a result most of the people think a building website is difficult. Therefore development in content management system has made  easy to create a website.
That is to say the right platform is WordPress. Where you can simply login to your WordPress site most importantly add new pages without paying your developer. WordPress is easy to use in addition has an good user interface moreover which makes it easy for you to create and update pages on your site.
The most popular site building website is wordpress
Here's why I recommend you  to use wordpress,
*It is a free content management system.
* Thousands of free templates(www.wordpress.org/themes)
*Above all it is a Powerful platform in addition easy to use.
For beginners I strongly recommend you to stick on to wordpress. There are many reasons to use WordPress. Above all, it is free of cost.By reading the  paragraph you will know how to create a website
 GET YOUR DOMAIN NAME AND HOSTING
Before setting up wordpress , as a rule you need 2 important things
Domain name (For example sitename.com)
However WordPress platform is free but to get domain name and hosting it cost little much around  $3 – $6.
One of the most important thing is to choose your domain name. The name should be professional, short and should be easy to spell and remember. Domain name is like registering your land in your name. Please don't skip any paragraph then you don't understand how to create a website .
WHERE DO YOU GET FREE DOMAIN NAME AND HOSTING
For beginners I would recommend you to BLUEHOST.COM for hosting and domain registration
Bluehost is the most trusted and secure hoster. The price is affordable and they have good customer service. They are US hosters, but you can still use them even if you live outside the United States they can handle a lot of traffic from across the world. In internet most of the websites are hosted from bluehost.com  since they have good customer service.
How to Create a Website using Bluehost
Go to bluehost.com by clicking the link below,you will get 75% offer by clicking the below link.
Once you click 'get started now' you will be taken to a page to select the hosting  plan of your choice.
Based on your hosting requirement select the suitable pack.
STEP 2 (select website hosting plan)
Select your plan, based on your hosting requirement select.

I would recommend you to choose the basic plan, which is great for beginners. Don't choose any adds-on for your site.
STEP-3
PICK YOUR DOMAIN NAME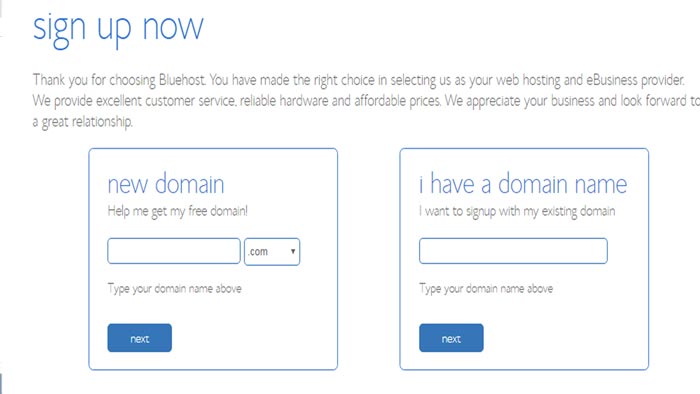 Domain name is nothing but  your website name For example "sitename.com".  It is the address where Internet users can access your website. A domain name is used for finding and identifying computers on the Internet. Computers use IP addresses, which are a series of number.
REQUIREMENTS FOR GOOD DOMAIN NAME,
*Must be professional
*Easy to spell and remember.
*Make it easy to type
*Target your keyword
*Avoid numbers.
Type your domain name in the given field and click next.
STEP 4
Create your account.
To register the domain you  must create an account in Bluehost so you need to fill in all the information.

It is optional to add your business name
You can also login using your google account. It is safe to use your gmail account.
STEP 5
SELECT YOUR PACKAGE
This is the last but not the least step for buying the domain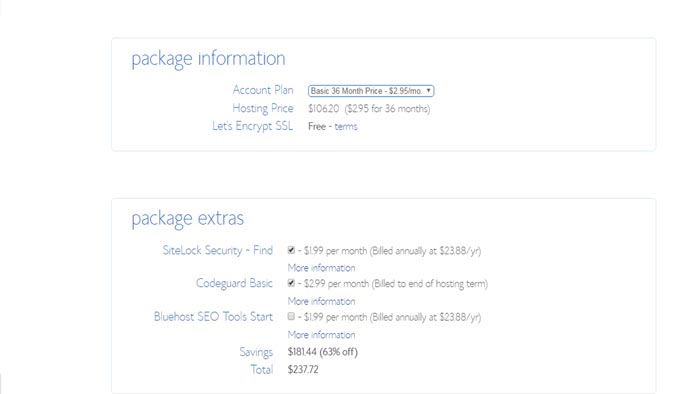 Above all select the most suitable plan of your need, however make payment through your credit card.
STEP 6
Once you have completed your payment, on the other hand  create your password.
Once you've created your domain name and hosting  your are well on your way.
Now it's time to install and design your site.
Meanwhile it's time to install WordPress.
How to install wordpress?
Go to Bluehost control panel and install wordpress by clicking the wordpress icon.
Your are successfully created your WordPress site.
STEP 7
As a result  you've successfully installed WordPress. You must log in to your WordPress. After logging in you will be logged on to WordPress dashboard. All above choose a theme for your site. Importantly your theme must be responsive in other words making your site easy to use on mobile as well as in PC.
There are thousands of theme available in the WordPress. Click the link to choose your theme  www.wordpress.org/themes/browse/popular/
Step 8
Start designing your site, you can edit your site by clicking edit but  above all you must select the theme for your website.
*Appearance ->customize
To make your editing fast you must install some plugins called ELEMENTOR. It is one of the best editing plugin.
STEP 9
Start customizing the site by clicking customize option. For instance you can setup your static front page. The front page is your home page. If you want to remove the sidebar in your theme, here's how,
1.Go to appearance ->widgets and start adding or removing the widgets.
2.In addition you can create menus most importantly of your choice.
Now you are on the last step of how to create a website
STEP 10
Plugins are extensions to minimize our work.
HOW TO INSTALL PLUGIN ?
To install plugins go to "Plugins->Add new" and search for plugins you want to install. There are 50,000+ Plugins available in WordPress
After adding your plugin, click "install" and activate it.
Start editing your site
congratulations you have successfully created your website.